FOR IMMEDIATE RELEASE
Mineral Lease On Yellow Dog River Approved
MARQUETTE — Save the Wild U.P. (SWUP) has learned that the State of Michigan Department of Natural Resources (DNR) has granted another mineral lease to Eagle Mine, LLC — this time, for a controversial 40 acre parcel along the Yellow Dog River.
The DNR's public notice of Eagle's mineral rights lease application was published on October 20, 2014, commencing a legally-required public comment period. Save the Wild U.P. responded swiftly to the public notice, working collaboratively with the Yellow Dog Watershed Preserve (YDWP) and the Michigan League of Conservation Voters to raise strong objections to the lease, in writing. Altogether, more than 1,400 letters, signatures and comments were submitted to Karen Maidlow, Property Analyst with the DNR's Minerals Management office, urging the DNR to reject the mineral lease sought by Eagle Mine LLC.
The 40 acre parcel (NE 1/4 SE 1/4, Section 13, T50N, R29W, Michigamme Township, Marquette County) lies along a branch of the Yellow Dog River, which is a federally-designated "Wild and Scenic" River. According to monitoring data, the Yellow Dog River currently has "excellent" water quality. The property contains a recreational trail (Snowmobile Trail #5), endangered plants, and "neotropical migrants" including Kirtland's warbler.
According to Chauncey Moran, YDWP chairman, "This land should have been classified as 'non-leasable, non-development' due to the substantial potential for ecological harm."
"Clearly, the DNR made the wrong decision," said Alexandra Maxwell, SWUP's interim director. "Once again, the outcry of concerned citizens was all but ignored for the benefit of a foreign mining company. This is another blow to our public land and the democratic process."
"The approval of a metallic mineral lease to Lundin Mining, virtually on the banks of the Yellow Dog River, denotes blatant disregard for the public's love of this blue ribbon trout stream," said Cynthia Pryor, watershed resident and longtime community advocate. "All who have fished it, recreated on it or have just heard about this beautiful river need to be affronted by the DNR's lack of stewardship of this and all other rivers in this state already suffering at the hands of our state regulators. Pure Michigan indeed."
"No mining, including exploration activities, should ever be permitted on this land. This is a very important area where medicinal plants are gathered by myself and other members of the Keweenaw Bay Indian Community. Elimination of this treaty right is unacceptable and unlawful," said former federal offshore oil regulator and Keweenaw Bay Indian Community tribal member Jeffery Loman. "Despite the fact that Michigan's Part 632 Mining Regulations are frequently touted as 'the strictest mining regulations in the United States,' it is a fact that every square inch of Michigan is open for mineral exploration and development. I repeat my request for the DNR to hold a public hearing to address this regulatory shortfall."
"It is outrageous that the DNR did not contact us directly concerning their decision. Save the Wild U.P. called for a Public Hearing, but we received no answer – yes or no – to that very simple request," said Kathleen Heideman, SWUP's president. "Citizens who wrote heartfelt, open letters directly to Karen Maidlow all received the same form letter in response. Groups and individuals who know the land in question submitted detailed written comments, explaining why this specific mineral lease should not take place in this specific place. What is the point of a public comment period, if the DNR ignores all the public comments? They didn't even pretend to listen this time."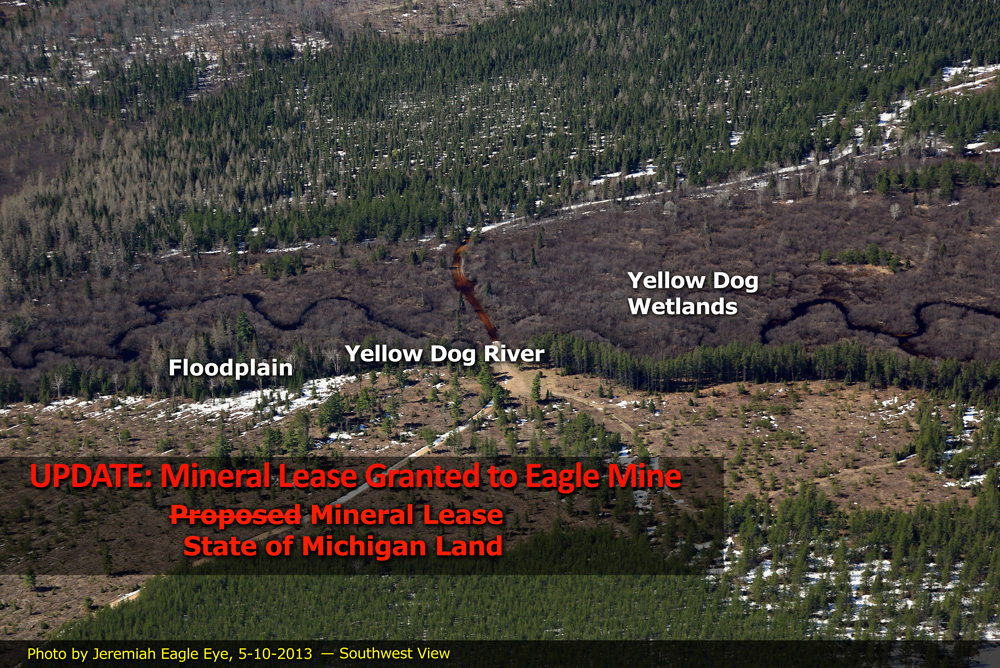 Founded in 2004, Save the Wild U.P. is dedicated to protecting our communities, lakes, and lands from the hazards of sulfide mining, which threaten to contaminate nearby watersheds – including Lake Superior – with acid mine drainage. SWUP continues to raise public awareness about mining exploration and development, regulatory errors and conflict of interest issues. More information is available at savethewildup.org or by calling (906) 662-9987.
###