FOR IMMEDIATE RELEASE
Save the Wild U.P. opposes political grandstanding on behalf of CR 595
MARQUETTE – Grassroots environmental group Save the Wild U.P. (SWUP) expressed disappointment over the recent flurry of "Resolutions" sponsored by lawmakers in support of the Marquette County Road Commission's lawsuit against the U.S. Environmental Protection Agency (EPA). SWUP opposes House Resolution 13, House Concurrent Resolution 1, and Senate Resolution 9 (pending).
According to SWUP, these resolutions, drafted in support of the Road Commission's lawsuit against the EPA, are an attempt to resurrect the previously defeated County Road 595. The 595 route would have cut through the Dead River and Yellow Dog Watersheds, the Mulligan Creek headwaters, Voelker Creek, Wildcat Canyon and more, on its way from Eagle Mine to the Humboldt Mill.
"The EPA, the U.S. Army Corps of Engineers (USACE), and the US Fish & Wildlife Service (USFWS) all objected to the construction of this road, as did area residents and property owners who want nothing to do with mine traffic passing their isolated and serene camps," said Alexandra Maxwell, SWUP interim director.
"Suggesting that a few resolutions will "make the EPA back down" is ludicrous," said Gail Griffith, retired professor of Chemistry at Northern Michigan University and SWUP board member. "This is exactly why the Environmental Protection Agency was founded: 'To protect human health and the environment.' This requires the EPA to make difficult decisions — including saying 'no' when special interests, corporate lobbyists or politicians promote projects that would benefit industry at the expense of our environment."
"Our state government is not supposed to be a corporate-errand boy. I expect politicians to participate in democracy and represent the will of the taxpaying citizens who elected them, not the international corporations that mine our lands and pollute our water," said Alexandra Maxwell, Save the Wild U.P.'s interim director. "But let's be honest — these resolutions are the political equivalent of a group selfie — politicians trying to get their names mentioned to convince the folks back home they're supporting jobs."
"We must trust that as a federal agency, the EPA won't be pushed around by corporate bullies — whether the bullies are big oil companies polluting our coastlines, global mining companies who'd profit from tearing apart our wild lands, poorly informed politicians, or a grudge-bearing road commission," said Kathleen Heideman, Save the Wild U.P. president. "The EPA shouldn't rubber-stamp anything. They should protect our environment, period. Save the Wild U.P. affirms the decision of the EPA, and we will continue to oppose any action that threatens the clean water and healthy watersheds of the Upper Peninsula of Michigan."
"This blatant attempt to pressure the EPA to approve a mining haul road through the MIchigamme Highlands is despicable," said Steve Garske, biologist and SWUP board member. "When the permit for Eagle mine was approved, then-owner Rio Tinto agreed to haul the ore to a point north of Marquette, where it would be transferred to a rail line. If Eagle Mine had been held to their word, these transportation issues would have been put to rest long ago."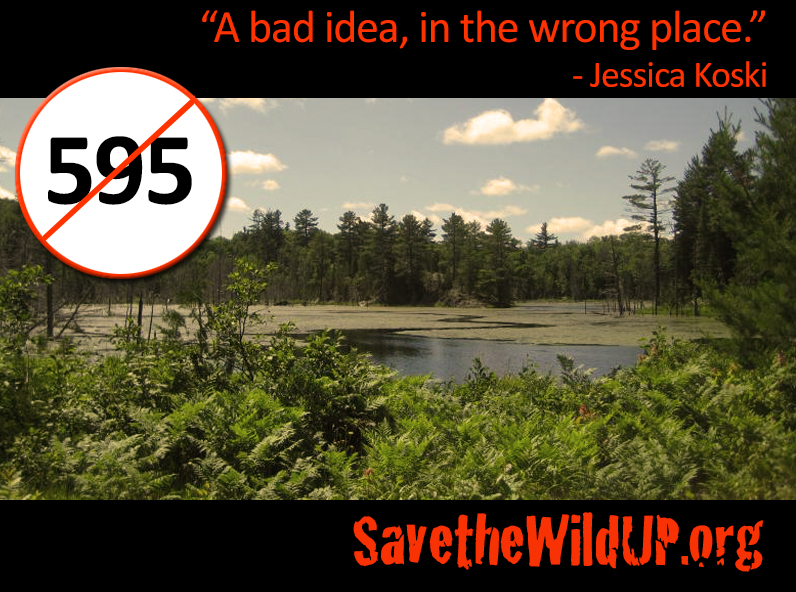 "The CR 595 project was destined to fail. And it did fail," said Jeffery Loman, Keweenaw Bay Indian Community tribal member and former federal oil regulator. "Now some politicians want us to believe that their proposed resolutions will result in the building of this mine haul road. Did Congress create the environmental law that the EPA is responsible for enforcing with some provision that says 'follow the law until some politicians want you to ignore it in order to support their friend's businesses'? It's insulting, really."
"Our local politicians in Lansing seem to think that issuing wetlands permits is a question of cheering loudly rather than following exacting regulations and rules. They tried the same political full court press two years ago. It was a failing strategy then and deserves to fail again. They should do their wetlands homework," said Jon Saari, SWUP's vice president.
Save the Wild U.P. demands full disclosure and transparency concerning the recent decisions of the Marquette County Road Commission, which is attempting to circumvent federal regulations. Private interests are trying to undermine hard-won environmental protections for clean water and wetlands — federal regulations intended to protect our drinking water and our trout streams. Save the Wild U.P. urges citizens to fully consider the long-term implications of the CR 595 proposal, and question the motivations of any elected officials who support this lawsuit against the Environmental Protection Agency.
Save the Wild U.P. was formed in 2004 to protect the U.P.'s unique communities, lakes, and lands from the hazards of sulfide mining, which threatens to contaminate the Lake Superior Watershed with acid mine drainage.
###