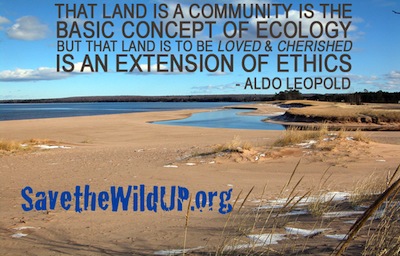 When in January, 2013 the Mining Journal headline proclaimed "CR 595 Project Killed," many opponents were skeptical that this was the last we would hear about it. CR 595 in all its incarnations is like a zombie. It seems dead, but then reappears in new guises.
First it was a private Woodland Road, then a public county road funded by the mining company. Its latest incarnation is as THE LONG-TERM SOLUTION to the trucking dilemma of the City of Marquette and Marquette Township. The City recently proposed a highly restrictive trucking ordinance within the city, thus forcing all parties anew to the negotiating table. A bypass around Marquette is being proposed as the short-term solution, but reviving CR 595 within a regional transportation plan is seen as a long-term solution.
The proponents cheering this revival are a familiar cast – County commissioners Gerald Corkin and Deb Pellow and Road Commission engineer-manager Jim Iwanicki – but there is a new voice among them, State Senator Tom Casperson (R – Escanaba) and his aide Matt Fittante. Fittante mesmerized a group of local administrators, planners, and politicians in Marquette township recently, who were all too eager to see the proposed CR 595 as the solution to their transportation woes — never mind that the mine was permitted without a comprehensive look at its outside-the-fence regional impacts. In the 2006 permit application the ore from the Eagle Mine was to be trucked to a railhead north of Marquette. But when Kennecot/Rio Tinto in 2008 purchased the Humboldt Mill, the transportation route was changed to CR 550 and US-41 through the City of Marquette. Efforts began to promote a direct north-south route from mine to mill mostly through undeveloped wild lands.
It is an intense issue made to the liking of Senator Tom Casperson. He seems to enjoy taking on controversies, such as the first wolf hunt in Michigan. He has championed some of the most anti-science natural resource legislation ever seen in Michigan, including a bill to eliminate biodiversity as a value in state forest planning (SB 78). His interest in CR 595 is to use it as a case study of "bad behavior" by federal regulatory agencies, particularly the EPA, and of over-reaching environmental laws, such as the Clean Water Act and Endangered Species Act. He was invited to Washington, D.C. recently to make that argument at a House hearing, using CR 595 as an example.
Casperson's agenda of weakening federal environmental regulation must be taken seriously. But local officials and planners should not be lured into serving his long-term agenda, just because CR 595 appears to give them a solution to a truck traffic problem.
There are good reasons why this latest revival of CR 595 should not, and probably will not, succeed.
First, the collusion of public officials in brokering a haul road for an international mining company sets a bad precedent. It creates an illusion that the road is a multi-purpose undertaking when in fact it is a haul road directly from mine to mill. This repurposing of a haul road did not pass the scrutiny of the Corps of Engineers the first time around, so why should it the second time around when the Corps is the lead permitting agency?
Second, after the DEQ denied the permit, the game changed. The mining company returned to its original permitted route and is investing in improving county roads AAA, 510, and 550, not to mention a Marquette bypass and street improvements within the city. How can anyone with a straight face argue that CR 595 with its significant wetland destruction is still necessary because there is no viable transportation alternative? The route may take longer to travel but it will be an upgraded trucking route ready to use by the time the mine opens.
Third, Rio Tinto/Lundin is unlikely to reoffer $80 million for the constructing of CR 595, now that it has invested over half of that into the "alternative" original route. It needs the other half to pay for the greater energy costs of the longer route. This calculus could change if the period of mining is extended through the discovery of new viable mineral deposits; that is not guaranteed. Using public money for a mine haul road (or a haul road disguised as rural development) would be an affront to taxpayers. So where is the money for CR 595 to come from?
Marquette county residents will be treated to an intense lobbying spectacle around CR 595 over the next months and years. The zombie may get up and start walking again.
But it is hoped that the intact wildness of the area north of Wolf Lake Road will never be fractured by an all-season highway, and that local officials will accept that part of their job is protecting the landscape from such degradation.
—
Jon Saari is a Board member of Save the Wild U.P. and former President of the Upper Peninsula Environmental Coalition. He has written extensively about CR 595 since 2010. This article first appeared in the December 2013 issue of Marquette Monthly as a letter to the editor.