Court Rules Flambeau 'Model Mine' Violated Clean Water Act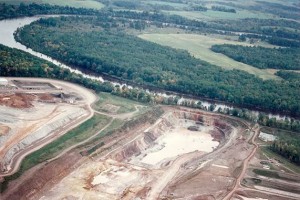 The Flambeau Mine near Ladysmith, WI has a long history of controversy due, in part, to the proximity of the mine to the Flambeau River. This photo was taken in September 1994, when heavy rains   caused flooding at the mine site.
State Officials Urged to 'Learn from Flambeau' and Stop Proposed Mega-Mines in Wisconsin, Minnesota and Michigan
A federal court ruled yesterday that Flambeau Mining Company (FMC) violated the Clean Water Act on numerous occasions by allowing pollution from its Flambeau Mine site, near Ladysmith, Wis., to enter the Flambeau River and a nearby tributary known as Stream C.
The lawsuit was filed early last year by the Wisconsin Resources Protection Council (WRPC), the Center for Biological Diversity, and Laura Gauger. The complaint charged that Flambeau Mining Company (a subsidiary of Kennecott Minerals Company / Rio Tinto) was violating the Clean Water Act by discharging stormwater runoff containing pollutants, including toxic metals like copper and zinc, from a detention basin known as a biofilter. Continue reading →