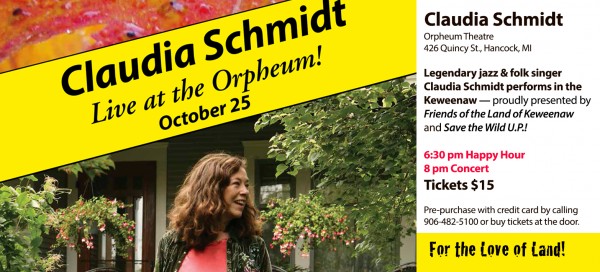 Legendary jazz and folk singer Claudia Schmidt will be performing at The Orpheum Theater in Hancock to benefit Save the Wild U.P. and FOLK Friends of the Land of Keweenaw.
Tickets at the door or in advance by credit card by calling (906) 485-5100.
Join our Facebook event for updates!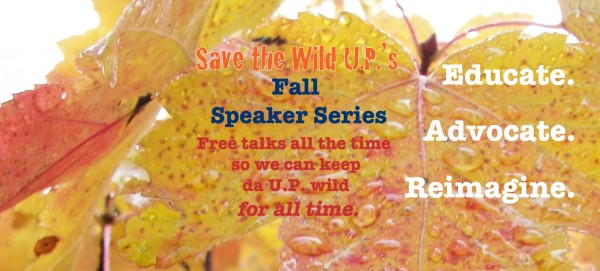 Check out our Fall Speaker Series! First up:
Monday November 3rd, 7 pm at the Lydia Olson Library
Relatives or Resources? Mining, Native Activism, and the Northwoods
Please join Save the Wild U.P. and Aimee Cree Dunn of NMU's Center for Native Studies on Monday, November 3rd at 7 pm in the Lydia Olson Library, room 326. Aimee's presentation will explore how cultural differences shape the ideologies of industrial mining and the Native activism that opposes this activity in the Northwoods. Are the inhabitants with whom we share this land relatives…or are they merely resources to be exploited as profitably as possible?
Monday November 10th, 7pm at Lydia Olson Library, Room 224
Rev. Jon Magnuson on faith-based advocacy
As part of Save the Wild U.P.'s "Walks and Talks" educational series, Rev. Jon Magnuson will speak on faith-based advocacy, including working with Concerned Clergy of Marquette, on Monday, November 10th, 7 pm, room 224 of Olson Library on NMU's campus in Marquette.