Marquette, MI — Regional environmentalists are expressing outrage and disappointment following news that the Michigan Department of Environmental Quality (DEQ) has announced the final approval for two of four major permits Aquila Resources Inc. (Aquila) needs for its proposed Back Forty Mine Project in Lake Township, Menominee County, Michigan. The DEQ approved the company's applications for a Nonferrous Metallic Mineral Mining Permit (Mining Permit), and the Michigan Air Use Permit to Install.

On December 28th, the DEQ published a press release headlined "Aquila Back Forty project gains conditional approvals by MDEQ; faces significant remaining hurdles"; this press release disappeared midday, replaced by a second press release titled "Aquila Back Forty project gains two permit approvals by MDEQ." The revised press release does not use the phrases "significant remaining hurdles" or "conditional." 
"I'm disgusted by the process as well as the decision. Key stakeholders were not notified, including neighboring residents, tribal governments and environmental groups who've been involved for over a decade" said Kathleen Heideman, outgoing president of Save the Wild U.P. "Financial assurances that should have been established in the draft permit were just added, but now there's no opportunity for public input as to their adequacy. There's still no final permit for the mine's wastewater discharges to the Menominee River which will degrade water quality and impair mussels and sturgeon. And the whole scheme hinges on a land swap between Aquila Resources and the State of Michigan, which has never been discussed in a public hearing."
"The DEQ is violating its own regulations by issuing this mining permit," said attorney Michelle Halley. "The permit application is incomplete, contradicts itself, and contradicts other public statements made by the applicant. This again demonstrates the DEQ's deeply flawed permitting process."
"Once again, it seems that the Michigan DEQ has set aside the wishes of the people, environmental concerns, and common sense, in order to help special interests pursue their objectives. It is apparent that the DEQ did not thoroughly review the information gathered during the public comment phase of this process," said Ron Henriksen, spokesman for the Front 40 environmental group.
"No one, including the DEQ's mine permit review team, was able to consider the project's cumulative impacts to the Menominee River and wetlands because a wetland permit has not yet been submitted. The rerouting of River Road, still to be determined, promises to further impact riparian wetlands, the floodplain and cultural sites belonging to the Menominee Indian Tribe of Wisconsin," said Heideman. "These are not 'special conditions' as the DEQ has implied. These are statutory requirements."
"The DEQ's approval is counterintuitive," said Alexandra Maxwell, member of the Mining Action Group. "Considering what will be destroyed – cultural properties and trust resources of the Menominee Tribe, fragile wetlands, water quality and the people's trust in state government and due process – this decision is a betrayal. Once more, Michigan's environmental regulators, who are trusted to enforce and protect the environment, have fallen far short of the mark."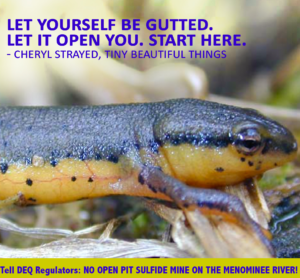 "This mine poses a grave threat to the water and land in the area. The edge of this open pit will come within 100 feet of the Menominee River. The DEQ is operating under the assumption that nothing catastrophic can occur. When there is a flood, acid mine waste will end up in the river and ultimately Lake Michigan. What will happen to recreational fishing? What will happen to the lake sturgeon, which have been rehabilitated through a $7 million project? What happens to the drinking water for downstream communities?" asked concerned citizen Nate Frischkorn.
"Shakey Lakes savanna, adjacent to the Aquila Back Forty mine site, is the largest and most intact oak savanna left in Michigan, and home to numerous rare, threatened and state-listed species. At the time of European settlement oak savanna was one of the most common habitats in the upper midwest, covering some 30 million acres. With less than 0.02% left, savanna is now one of our rarest landscapes. In 1990, this area was recommended for designation as a National Natural Landmark. The DEQ's shortsighted decision to grant a mining permit here will further degrade one of Michigan's rarest and most unique places," said botanist Steve Garske.
"The DEQ has a strange understanding of stewardship. Risky mining ventures, under and next to U.P. rivers, get permit approvals, in the face of widespread opposition from residents, Native American tribes, recreationists, and concerned citizens. Will the DEQ ever interpret a mining proposal as inadequate? Instead, we see more public land and waterways held hostage to industrial projects, more cuts into an already wounded landscape," commented historian and Upper Peninsula Environmental Coalition board member Jon Saari.
Environmentalist claim the Back Forty mine permit application was fraudulent. According to Heideman, "Aquila lied to regulators about the extent of their planned mine, to streamline the process. Aquila applied for a 7 year open pit mine and told the DEQ that NO underground mining would take place. But Aquila is promising something very different to international investors and local business leaders, saying the Back Forty is "two mines" — an open pit and an underground mine, with a combined life of 16 years. It is illegal and fraudulent to lie in a permit application. The Back Forty application should have been denied a year ago, on that basis alone." Aquila's corporate press release, published on December 29th, once again describes the Back Forty project as having a "16-year life of mine, of which 12.5M tonnes will be open-pit and 3.6M tonnes will be underground." The mining permit granted by the State of Michigan is for a 7 year open pit mine only.
Two key permits are still needed before the Aquila Back Forty project can proceed: a NPDES permit authorizing the discharge of the mine's industrial wastewater to the Menominee River, and a wetland permit, regulating the impairment and destruction of wetlands. The NPDES permit is "under consideration" according to the DEQ, given unresolved concerns raised by concerned citizens and the Environmental Protection Agency. Oddly, the "revised" DEQ press release states that a Wetlands permit application is also "under consideration," despite the fact that the original application contained numerous errors and omissions and was rescinded, and a new application has not yet been submitted.
####
Founded in 1976, the Upper Peninsula Environmental Coalition's purpose remains unchanged: to protect and maintain the unique environmental qualities of the Upper Peninsula of Michigan by educating the public and acting as a watchdog to industry and government. UPEC is a nonprofit, registered 501(c)(3) organization. For more information, call 906-201-1949, see UPenvironment.org, visit our Facebook page, or contact: upec@upenvironment.org.
Previously known as Save the Wild U.P. (SWUP), the UPEC Mining Action Group (MAG) is a grassroots effort to defend the clean water and wild places of Michigan's Upper Peninsula from the dangers of sulfide mining. Contact the UPEC Mining Action Group at info@savethewildup.org or call (906) 662-9987. Learn more about the Mining Action Group at miningactiongroup.org or follow MAG's work on Facebook or Twitter.