Tuesday July 22, 2014 at 1pm — Join us at the Baraga Place Conference Room (129 W. Baraga Avenue), where we will hear from Cynthia Pryor, the former president of Save the Wild UP and current board member of the Yellow Dog Watershed Preserve. Cynthia is the ideal citizen activist and she will be talking to us about community involvement in grassroots organizations like ours!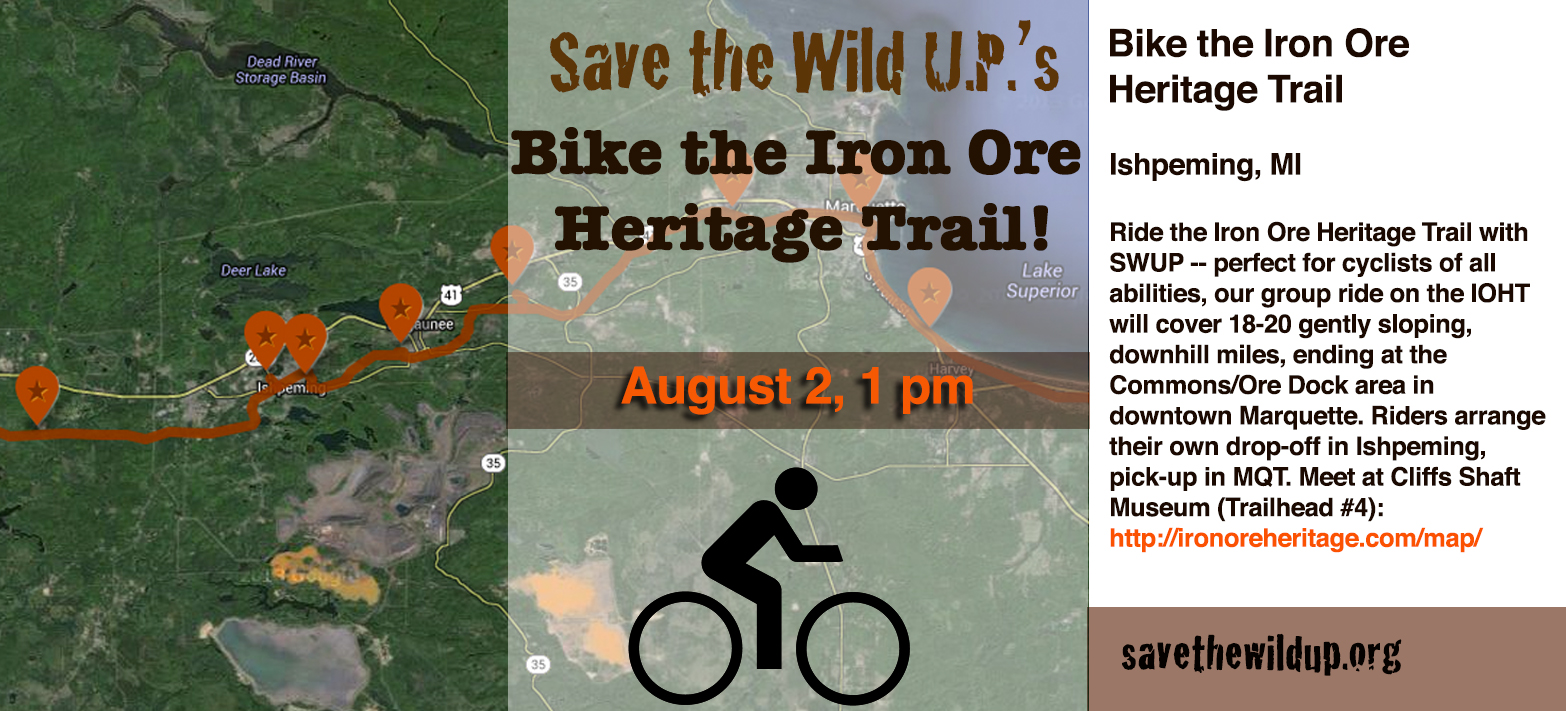 Aug. 2, 1pm – Bike the Iron Ore Heritage Trail – Ishpeming Ride the Iron Ore Heritage Trail with SWUP – perfect for cyclists of all abilities, our group ride on the IOHT will cover 18-20 gently sloping, downhill miles, ending at the Commons/Ore Dock area in downtown Marquette. Riders arrange their own drop-off in Ishpeming, pick-up in MQT. Meet at Cliffs Shaft Museum (Trailhead #4): http://ironoreheritage.com/map/ For more info or to RSVP, call (906) 662-9987 or rsvp@savethewildup.org.
Previous events include:
May 29, 6:30pm – Hike-or-Bike in Negaunee! Join SWUP for a guided walking tour of the Old Town historic caving grounds – OR – opt to ride the ghostly roads from Jackson Pit to the mines of downtown Ishpeming.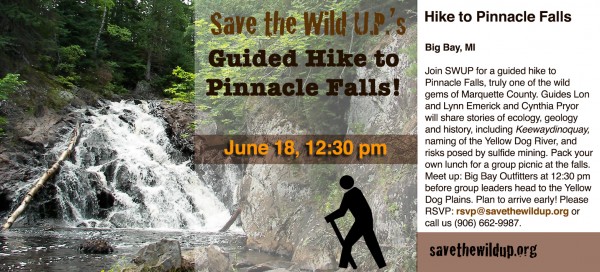 June 18, 12:30pm – Guided Hike to Pinnacle Falls! Join SWUP for a guided hike to Pinnacle Falls, truly one of the wild gems of Marquette County. Guides Lon and Lynn Emerick and Cynthia Pryor will share stories of ecology, geology and local history, including Keewaydinoquay, the naming of the Yellow Dog River, and risks brought by sulfide mining just upstream. Pack your own lunch for a group picnic at the falls. RSVP required! Meet up: Big Bay Outfitters, Big Bay at 12:30pm before group leaders head to the Yellow Dog Plains. Plan to arrive early!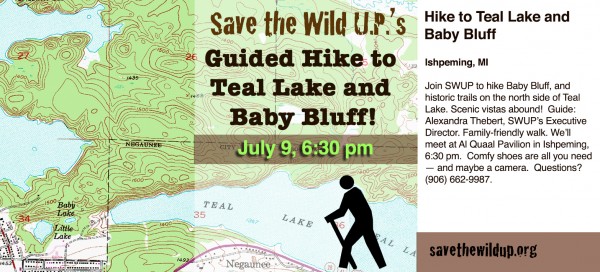 July 9, 6:30pm, SWUP Hike – Teal Lake and Baby Bluff – Ishpeming Join SWUP to hike Baby Bluff and trails on the north side of Teal Lake with Alexandra Thebert, SWUP's Executive Director. Family-friendly walk: wear comfortable shoes. Meet at 6:30 at Al Quaal Pavilion in Ishpeming.
Tuesday, June 24th, 1 pm – Jessica Koski, a mining technician for the Keweenaw Bay Indian Community (KBIC), will talk about the tribes ongoing battle against the Eagle Mine over the seizure and exploration of ceded and sacred land at the Baraga Place conference room on 119 W. Baraga Ave. in Marquette.