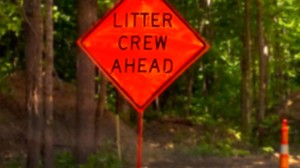 MARQUETTE—In recognition of Earth Day 2016, volunteers from Save the Wild U.P. (SWUP) will collect litter along the Triple A in northern Marquette County.
"Until last year, there was no pavement on the Triple A," said Kathleen Heideman, SWUP president. "Now it's a paved haul road leading to the gate of Eagle Mine, with giant ditches, and those ditches are accumulating litter."
According to Gaylord Nelson, the Wisconsin politician who organized the first Earth Day in 1970, "The American people finally had a forum to express their concern about what was happening to the land, rivers, lakes, and air – and they did so with spectacular exuberance." Earth Day became recognized worldwide in 1990.
Save the Wild U.P. works to defend the U.P. from the environmental threats posed by sulfide mining. "Generally, we raise awareness about sulfide mining's most serious dangers, like acid mine drainage require perpetual care, surface water contamination, subsidence risk, air pollution, and so forth," said Heideman. "But sulfide mining has definitely brought litter, too – roadside litter from increased vehicle use by mining employees and contractors, trash left behind at remote mineral exploration sites, and trash blown from the mine site."
"Littering is part of the 'mining camp' vibe, unfortunately." said Alexandra Maxwell, Save the Wild U.P.'s executive director. "Following surface and seismic mineral exploration, Lundin Mining's contractors leave PVC pipes abandoned in forests, ravines, and swamps, and plastic ribbons fluttering from trees. Trash blows out of trucks, or gets tossed out a vehicle window. Litter inspires more litter," said Maxwell. "Obviously, we'd like to see the mining industry take full responsibility for their environmental impacts, but that hasn't happened yet."
"It's still thawing on the Yellow Dog Plains, but the forecast for Saturday looks terrific!" said Heideman
Participants should meet Save the Wild U.P. leaders at the Big Bay Outfitters at 12:30pm on Saturday. The carpool caravan will be leaving promptly at 1pm.  Folks planning to attend should wear bright colors, closed-toe shoes or boots, and should bring gloves. Snacks will be provided at the end of the day, but participants are encouraged to bring water and any other essentials they may need. For more information please send an email to info@savethewildup.org or call 906-662-9987.
Founded in 2004, Save the Wild U.P. is a grassroots environmental organization dedicated to defending wild places and clean water of Michigan's Upper Peninsula from the dangers of sulfide mining. For more information contact info@savethewildup.org or call (906) 662-9987. Get involved with SWUP's work at savethewildup.org or follow SWUP on Facebook at facebook.com/savethewildup or Twitter @savethewildup.