FRIENDS, THANKS TO ALL WHO SPOKE OUT ON BEHALF OF WETLANDS!
If you weren't able to attend this week's Public Hearing on the Aquila Back Forty Wetland Permit, you missed an evening of passionate, accurate testimony. As reported locally by the Eagle Herald: "People came from both sides of the river… they spoke on methylmercury, wetlands degradation, pollutants, preserving cultural sites, tourism, fishing and hunting industries, ecosystems, biodiversity, unborn children and future generations and local interest versus foreign gain. The common thread was their passion; and their pursuit was to voice their opposition to the Back Forty Mine project."
Truly inspiring! Estimates put the crowd at 400-500 people. Roughly 100 signed up to speak, with folks still waiting for their names to be called when the hearing ended after four hours. Public comment was overwhelmingly opposed – nearly everyone asked the Michigan Department of Environmental Quality (DEQ) to deny this permit.
It's not too late — submit your own comments on the Aquila Back Forty Wetland Permit  ➤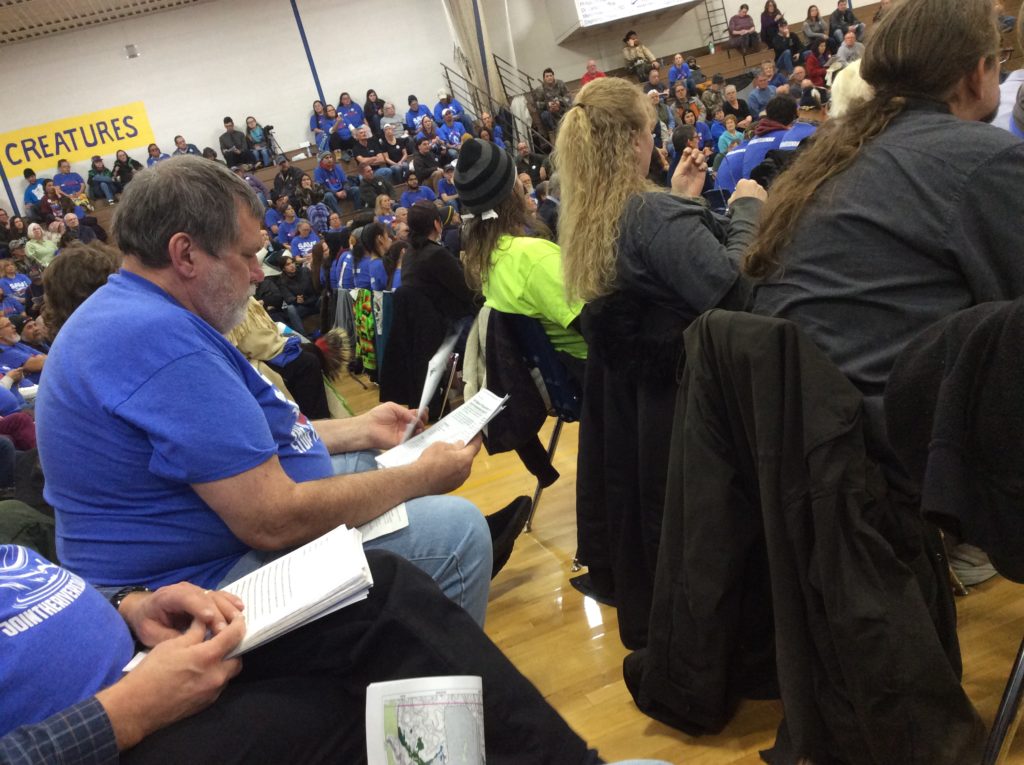 Meanwhile – on behalf of fishing groups and concerned citizens, the Mining Action Group of the Upper Peninsula Environmental Coalition and the Front 40 Environmental Group secured third party technical reviews of the Back Forty Wetland Permit. These technical reports have revealed errors and inconsistencies in Aquila's claims: the hydrology review found that indirect impacts to wetlands caused by groundwater drawdown will be far greater than claimed by Aquila, and CSP2's review found fundamental problems with the mine's feasibility analysis, also known as the "Least Environmentally Damaging Practicable Alternatives" analysis. ("Red-Flag Review Finds Big Holes in Sulfide Mine's Wetland Permit"). We've submitted these independent reports to the DEQ, and are making them available for your review:
As you know, the threat is real. More than 50% of Michigan's historic wetlands have already been lost, according to a recent article by Michigan Department of Natural Resources. Wetlands are critical ecosystems, providing benefits such as water filtration, erosion and flood control, and essential habitat for a diverse array of species. Any damage to wetlands along the Menominee River would have a negative effect on downstream communities as well.
The deadline for written comment is February 2, 2018. Submit comments online, by email, or mail to: DEQ Upper Peninsula District Office WRD, 1507 W. Washington Street Marquette, MI 49855
Please join the Mining Action Group in urging the Michigan DEQ to deny this application  ➤
Review the Back Forty Wetland Permit and submit your comments today. 
Stay vigilant!
PS: Check out recent media coverage of the Wetland Permit hearing, and the Menominee Tribe's Clean Water Act Lawsuit:
NOTE OF GRATITUDE

Independent technical reviews of the Aquila Back Forty Wetland permit were made possible by the generous support of numerous groups and individuals concerned about the future health of the Menominee River, including small grants and donations from Freshwater Future, Superior Watershed Partnership, the Western Mining Action Network, DuPage Rivers Fly Tyers (DRiFT), Northern Illinois Fly Tyers (NIFT), Badger Fly Fishers, M&M Great Lakes Sport Fisherman, Wisconsin Smallmouth Alliance, Fly Fishers International, Great Lakes Council of Fly Fishers International, the Emerick Family Fund, and individual fishing enthusiasts throughout the Great Lakes area.