Significant Changes have been made to the Aquila Back Forty Mine. Since the mining permit was issued (December 28, 2016), the Back Forty mine site has been expanded and redesigned. The changes impact critical components such as project boundary, affected area, location of haul roads, relocation of mine waste (tailings) storage areas (TWRMFs), sumps, contact water basins, ore stockpiles, and beneficiation (milling) buildings. The edge of one tailing basin is now approximately 1,000 feet from the Menominee River. 
None of these facility changes have been reviewed or permitted — yet these site designs are included in the Aquila Back Forty Wetland permit application. 
Again –

these are Significant Changes. 
We are calling on the Michigan Department of Environmental Quality (DEQ) to immediately subject the Back Forty Mine permit to an AMENDMENT REQUEST. 
This is urgent. The Aquila Back Forty Wetland Permit application is currently undergoing a review for administrative completeness, and will soon be "Public Noticed". The design of the Aquila Back Forty Mine is clearly integral to a comprehensive review of the pending Wetland permit application.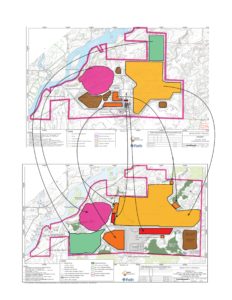 We have asked that the DEQ act swiftly, requiring an amendment of the Back 40 mining permit (#MP012016) — before any further consideration is given to the pending Wetland permit, since it is clearly based upon an unpermitted facility design.
We urge all concerned citizens and stakeholder groups to submit their own request, as soon as possible. For full details, see our letter, below.
---