Friends, another critical public comment period came to a close this weekend – concerning this outrageous mineral lease request from Eagle Mine targeting public lands in four counties —Baraga, Houghton, Iron and Marquette –  in Michigan's Upper Peninsula:
"Eagle Mine LLC, of Champion, Michigan, has requested direct development metallic minerals leases from the State of Michigan covering Department of Natural Resources (DNR) metallic mineral rights located within T47N R34W, T47N R35W, T51N R30W, and T51N R31W, located in Baraga County; also T47N R35W and T47N R36W, located in Houghton County; also T46N R34W and T46N R35W, located in Iron County; and T50N R28W, located in Marquette County, containing a total of 15,274.27 acres, more or less."
Our concerns with Eagle Mine's alarming environmental record are well known. In reviewing these lease nominations, the Mining Action Group also identified problems with the DNR's public process, and broad concerns about the scope of the proposed leases, the trend of increasing mineral exploration targeting public lands, and the specific threats posed to natural resources (water quality risks, habitat disruptions, industrial land uses incompatible with land management goals, etc.). On behalf of our supporters, advisors, and other concerned citizens, we submitted extensive written comments to the Michigan Department of Natural Resources.
Conclusions:
Some of these state-protected and federally-owned public lands should absolutely not be leased. We believe that the landscape-scale expansion of mineral leasing and exploration is not the best or most desirable land use, and the stipulations and restrictions provided are insufficient to protect natural resources. As environmental stakeholders, we have identified several opportunities for process reform related to the DNR's duty to inform the public of proposed Mineral Leases, and better safeguard the Public Trust.
Specific Requests:
We strongly urge the Department of Natural Resources to

deny

the mineral lease sought by Eagle Mine LLC for 40 acres of State-owned land on the Yellow Dog Pla

ins (

T50N R28W

,

Marquette County).

For parcels having stipulations of "Threatened or Endangered Species Habitat", The DNR should consult its own records, the Michigan Natural Features Inventory database, and/or the Ottawa National Forest data to find out what state- or federally-list rare species are known to occur on these lands. The DNR should then consider whether mineral exploration on these lands has a significant chance of damaging or destroying any existing populations of these species. If so, the mineral rights beneath these parcels should NOT be leased for mineral exploration. Additionally, all of these parcels should be reconsidered in terms of the potential impacts to critical habitat for newly listed Endangered species, such as the Northern Long-Eared Bat (and protection of hibernacula) and the Rusty Patched Bumble Bee.

For mineral leases within the Wild and Scenic corridor of the Ontonagon River, we recommend no mineral leases be issued

(deferring to federal protection of surface resources). These include

parcels in T47N, R36W, Sections 9, 15, 23, 25, 26, 35 and 36.

Downstream from these lease requests, the East Branch of the Ontonagon becomes a designated National Wild River. If leases are considered, they must be re-evaluated in terms of the federal restriction of "1/4 mi on each side of designated Wild and Scenic and Recreational rivers." Land within this corridor has special protection. Strongest protection is for for Wild Rivers, where federal mineral rights are withdrawn. Water quality within this segment is also strictly protected.

We strongly object to the proposed mineral leases that are partly or entirely within lands being considered for inclusion in the National Wild & Scenic River system.

This includes parcels T47N, R34W Sections 9, 10, 15, 16, 22, 26, 27, 28, and 35, which fall partly or entirely within the National Wild and Scenic River study area for the Net River. We ask that the DNR defer to the federal study process and deny leases to mineral rights under these lands.

The DNR should consult with its own biologists and with Ottawa National Forest biologists and land managers before leasing any of the other parcels under these public lands.

Land management plans for forest units on state lands in these counties should be updated to accurately reflect the widening threats of mineral exploration and changing land use.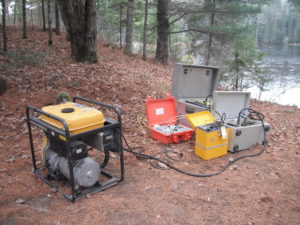 In closing, we repeat the statement made by the DNR's Brian Roell, concerning the unexamined cumulative impacts of mineral leasing and the fact that "present and anticipated increase of mining exploration activity in this area could individually and/or cumulatively adversely impact the long-term viability of various wildlife populations in this region." When and how will the DNR tally the cumulative environmental impacts of these pending mineral lease decisions? In our opinion, leasing decisions are made in a predictable and piecemeal fashion, disregarding obvious trends and cumulative impacts to natural resources. The current proposal to lease more than 15,000 acres of State forest land to a single mining company is staggeringly short-sighted, and if approved will further undermine our Public Lands and jeopardize Michigan's long-term stewardship of public forest land, public access, clean water, sustainable forestry, and protective management of Michigan's wildlife and fisheries. ALL of the proposed leases should be re-examined with an eye to the protection of wild lands, wild rivers, scientific study sites, and critical habitat, both known and potential, necessary for threatened and endangered species."
Review