FOR IMMEDIATE RELEASE
320 Acre Mineral Lease Would Undermine Environment, Historic Site
MARQUETTE – According to grassroots environmental organization Save the Wild U.P., a new mineral lease request on the Yellow Dog Plains stands to threaten both the environment and a local historical site. North American Nickel, Inc. of Canada is seeking a mineral lease from the State of Michigan for 320 acres of public land (SW1/4; N1/2 SE1/4; W1/2 NW1/4, Section 35, T51N, R29W, Michigamme Township, Marquette County). The Michigan Department of Natural Resources (DNR) published the announcement of North American Nickel's mineral lease application on September 11th, 2015, commencing a 30-day public comment period. North American Nickel has no experience operating in the United States.  They currently have mining projects in Sudbury, Canada and in Greenland.
The targeted land lies north of Triple A road, northwest of the Eagle Mine. Ecologically, the land supports jack pine forest habitat critical to the endangered Kirtland's Warbler. The DNR lease review acknowledges the possible presence of endangered species, and notes the presence of a site of "archaeological significance."
Historically, the land is connected with the Nels Andersen (sometimes spelled Anderson) family homestead, home to early Danish immigrants who settled on the Yellow Dog Plains in 1902. Prior to the 1900's, the plains were frequented via a trail between L'Anse and Big Bay, used for hunting and berry-picking, with a strong pre-European Indigenous presence. These oral histories and other stories related to the Andersen site were recorded by the late historian and storyteller, C. Fred Rydholm, in Superior Heartland: A Backwoods History.
According to the DNR's Management Plan for the Yellow Dog Plains, this area "provides multiple benefits including forest products, dispersed recreational activities, and provides habitat for a variety of fish and wildlife species" and the DNR's stated management priority in this area "is to continue to provide these multiple benefits while minimizing user conflicts." The DNR's stated priority for this land is NOT mineral exploration.
"Why does the State bother writing these land management plans?" asks Gail Griffith, emeritus professor of Chemistry at Northern Michigan University and SWUP board member. "Michigan regulators obviously believe that mineral exploration is always the most desirable land use — in every situation, no matter how it undermines or jeopardizes our public land, water, forestry, wildlife and fisheries."
In their Management Plan, the DNR states that "almost all state lands are leased and extensive exploration has been conducted" but further notes "there is insufficient data to determine the glacial drift thickness" on the Yellow Dog Plains.
"Unfortunately, these 'insufficiently-understood' glacial sands contain a pristine aquifer — groundwater water unpolluted by any industry, until it flows east toward Eagle Mine," said SWUP board member and botanist Steve Garske. "Groundwater from the Yellow Dog Plains aquifer feeds headwaters of several rivers and coldwater trout streams, and supports unique spring-fed ponds such as Andersen Lake, which provide key habitat for mammals, migratory birds, reptiles and amphibians, insects and native plants, including threatened species."
"Once again, we're asked to trust that the Department of Natural Resources will act as a responsible environmental steward, and that our clean water and natural resources are in good hands," says Kathleen Heideman, SWUP's president. "The public is not consulted when exploratory drilling and seismic blasting surveys are done, and regulators are not out in the field, keeping an eye on day-to-day exploration work. Mineral exploration is not a democratic process – there's no accountability, and no transparency. The public wants an open and responsible process. Why won't the DNR listen?"
In 2014, Eagle Mine made a similar request, seeking mineral rights to a parcel of public land along the Yellow Dog River. Working collectively, Save the Wild U.P., Yellow Dog Watershed Preserve and the Michigan League of Conservation Voters called on the State of Michigan to hold a Public Hearing on the proposed lease. The groups asked the DNR to deny the mineral lease request, stating that "metallic mineral lease of this land would serve only the short-term goals of industry (…) once again, the State of Michigan seems wholly incapable of serving the public trust." In response, the DNR simply sent out form letters, and approved the lease without notifying any of the organizations or individuals who had requested a hearing.
"It's outrageous but true: Part 632 doesn't restrict one square inch of Upper Michigan from sulfide mining and mineral exploration — the one mine permitted under Part 632 is a failure — continuing to lease state lands to international mining companies serves no proper purpose. We are peaceful and respectful people but we are no longer victims. We aren't afraid of anything. I'm asking the State of Michigan to extend some respect for our treaty rights — deny this leading request," writes Jeffery Loman, former federal oil regulator and Keweenaw Bay Indian Community tribal member.
In 2006, the Superior Watershed Partnership (SWP) recommended to "prohibit sulfide-based mining" on the Yellow Dog Plains, and they continue to stand by that recommendation. "The potential impacts to groundwater, surface water and Lake Superior are simply too great," says Carl Lindquist, SWP's executive director.
"It's no surprise that another Canadian mining company is seeking to lease minerals," says attorney Michelle Halley. "Save the Wild U.P., the Yellow Dog Watershed Preserve, and others have known that Eagle Mine was just the beginning of a regional mining development strategy. In the long term, the public will pay a high price for mining projects performed without adequate permitting, monitoring and enforcement."
 "The Upper Peninsula is under attack, due to poorly-unregulated incremental industrial expansion. It's a feeding-frenzy. Mineral leasing decisions are being made behind closed doors, regardless of their environmental or cultural impacts, and the comments of concerned citizens are ignored," says Alexandra Maxwell, SWUP's executive director. "The public perceives that the DNR is acting as a land broker for industry, and approval of this lease will only reinforce that perception. We urge the public to join us in asking the DNR to DENY this mineral lease request from North American Nickel." 
Public comment is due by October 12th. Comments can be submitted by email to Karen Maidlow, Michigan Department of Natural Resources, at maidlowk@michigan.gov, or mailed directly to Karen Maidlow, Property Analyst, Minerals Management, DNR, P.O. Box 30452, Lansing, MI 48909.
SPECIAL OPPORTUNITY:
To raise awareness about the land threatened by this mineral lease request, Save the Wild U.P. will lead a hike to the site on Saturday, October 24th. Participants will visit Andersen homestead ruins and Andersen Lake, and hear a social history of the Yellow Dog Plains as recollected in the stories of Superior Heartland: A Backwoods History, by C. Fred Rydholm. Those interested in joining the hike can learn the details on SWUP's facebook page, or by contacting rsvp@savethewildup.org. Our meet-up site will be Big Bay Outfitters at 12 pm. Tickets for this special hike are $10; all proceeds benefit Save the Wild U.P.'s work.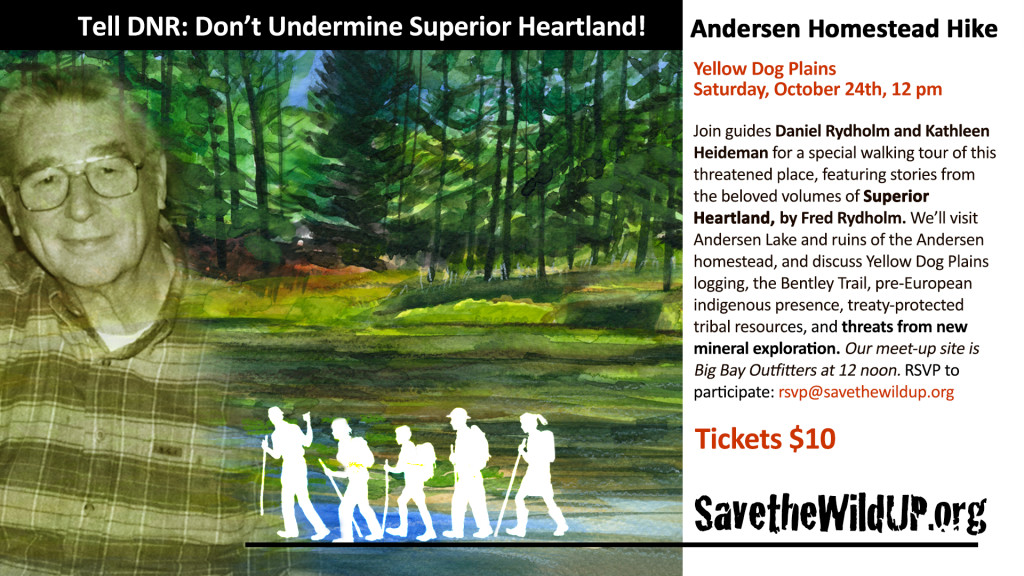 Download event information: http://bit.ly/1WO2GNv
Founded in 2004, Save the Wild U.P. is a grassroots environmental organization dedicated to preserving the Upper Peninsula of Michigan's unique cultural and environmental resources. For more information contact info@savethewildup.org or call (906) 662-9987. Get involved with SWUP's work at savethewildup.org on Facebook at facebook.com/savethewildup or on Twitter @savethewildup.
Editors: the following map is available for use with this press release —
"Mineral Lease Request – Andersen Homestead"
(Google Map, interactive)
http://bit.ly/1GwH9zz
"Mineral Lease Request – Andersen Homestead"
(Google Earth map, static)
http://bit.ly/1hruWFN

Caption
North American Nickel, Inc, is seeking a new mineral lease for 320 acres of Public Land on the Yellow Dog Plains. Grassroots environmental group Save the Wild U.P. is urging the Michigan DNR to reject the mineral lease application, stating that it threatens to undermine critical habitat for the Kirtland's Warbler, and a site of historical significance. The history of the area was well-documented by local historian C. Fred Rydholm, in Superior Heartland: A Backwoods History. The land is part of the Escanaba River State Forest and the Cedar Creek watershed.