FOR IMMEDIATE RELEASE
Unified Opposition to Graymont 'Land Transaction'
MARQUETTE — Tribal officials, clergy, local residents and leading environmental organizations of the Upper Peninsula of Michigan have joined forces to deliver a letter to the Michigan Department of Natural Resources (DNR), outlining their collective opposition to the Graymont 'Land Transaction.'
In a unified letter of opposition sent to the DNR's Director Keith Creagh on Friday February 27th, they urge him to reject the Graymont land sale "which threatens to sacrifice public lands for the benefit of a foreign mining company, at the bargain price of a few hundred dollars per acre."
Graymont, a Canadian mining company, first submitted an application to purchase over 10,000 acres of public land from the DNR in November of 2013. Graymont intends to construct surface limestone quarries and, eventually, an extensive underground mine. These lands are currently open to the public for hunting and recreational trails, supporting wildlife, and managed for timber — contiguous forest lands considered some of the most productive forest land in the Eastern Upper Peninsula.
The area under consideration includes fragile wetlands and critical ecosystems. These public lands support unique hydrology and biodiversity, including "karst" habitat identified in Michigan's Natural Features Inventory, limestone features (cliffs, pavement, sinkholes, caves) and special ecologies uniquely adapted to limestone: bats reliant on limestone caves, globally-rare "alvar" plant communities, and limestone wetlands critical to the endangered Hine's Emerald Dragonfly, termed "one of North America's rarest dragonflies" by the U.S. Fish & Wildlife Service.
The collective letter of opposition is signed by individual citizens as well as major groups, including the Michigan League of Conservation Voters, Upper Peninsula Environmental Coalition, Friends of the Land of Keweenaw's Board of Directors, the Chippewa Ottawa Resource Authority, the Central U.P. Group of the Michigan Chapter of the Sierra Club, Yellow Dog Watershed Preserve, Concerned Citizens of Big Bay, Save the Wild U.P., the Sault Ste. Marie Tribe of Chippewa Indians, the Keweenaw Bay Indian Community, Students for Sustainability of Northern Michigan University, Northwoods Native Plant Society, Citizens for Alternatives to Chemical Contamination, Citizens Against the Rexton Project, Concerned Clergy of Marquette, the Marquette Unitarian Universalists Social Action Committee and multiple individual property owners in Trout Lake, MI.
In the letter, the groups enumerate serious environmental and economic concerns, including "…the displacement of existing limestone quarrying jobs, and the loss of sustainable, long-term jobs in the forestry and tourism sectors." In addition, "the sale of these lands interferes with Indian tribes' rights by having an adverse impact on fishing, hunting and gathering activities of tribal members under the 1836 treaty."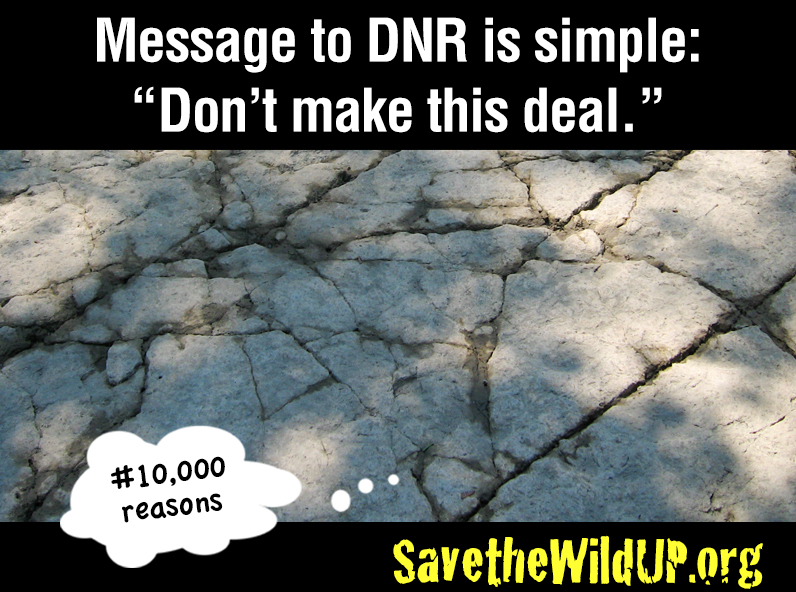 "Graymont recently revised the land transaction for the umpteenth time, increasing their proposed royalty payments to 18.75 cents per ton — but only for a short duration," said Kathleen Heideman, SWUP's president. "That's a pittance in comparison to current market values and contemporary royalty offers. It all adds up to nothing, really."
"These are serious and unresolvable objections," said Alexandra Maxwell of Save the Wild U.P. (SWUP), who helped organize the collective letter of opposition. "Our message to Director Creagh is simple: don't make this deal." According to Maxwell, Save the Wild U.P. has been following the developments of this project since Graymont submitted its application; SWUP and other groups have consistently attended public meetings and submitted commentary critical of this potential land sale. "Now a majority of environmental organizations and concerned citizens throughout the U.P. have reached a clear consensus–the Graymont project must be stopped."
The DNR will be accepting written comment from the public concerning the newest revision of the Graymont proposal through March 19th. "We strongly urge folks to review the facts," said Maxwell, "and then write directly to Director Creagh, asking him to reject the Graymont land deal. Concerned citizen still have time to protect their public lands, in their own words."
Written commentary may be submitted to: DNR-GraymontProposalComments@michigan.gov
Comments can also be mailed to the Roscommon Customer Service Center, ATTN: Kerry Wieber, 8717 N. Roscommon Rd, Roscommon, MI 48653.
"A foreign mining company wants to buy 10,000 acres of our public land?" said Heideman. "By my calculation, that's ten thousand great reasons to reject the deal."
The group's letter can be viewed or downloaded here:  Letter of Unified Opposition to Graymont Land Transaction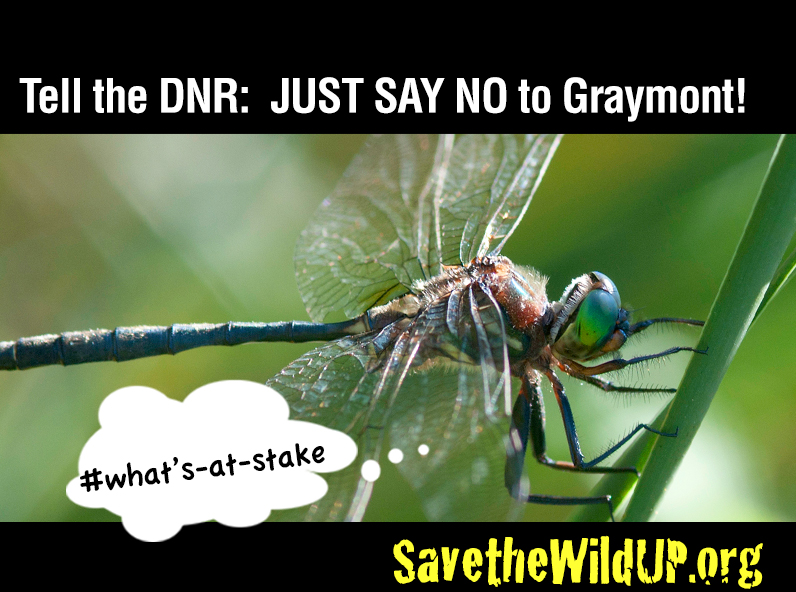 ###
Save the Wild U.P. is a grassroots environmental organization dedicated to the preservation of the Upper Peninsula of Michigan's unique cultural and environmental resources. For more information or to schedule an interview, contact info@savethewildup.org or call (906) 662-9987.