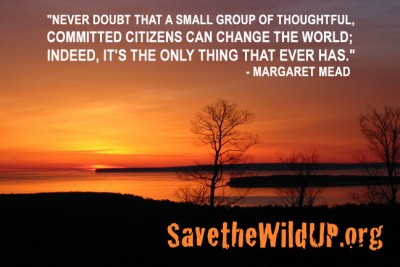 Save the Wild U.P., a dynamic grassroots group, seeks to hire a Regional Organizer to increase our advocacy work protecting the Upper Peninsula's unique culture, environment, and communities from the hazards of sulfide mining.
As Regional Organizer, you'll join us in educating and engaging new people on the hazards of sulfide mining — and how sustainable economies, our unique culture, and our environment are all linked together.
Roles & Responsibilities
We're a nonpartisan organization that reaches out to people across the peninsula about our need to move beyond a dependence on mining for the good of our economies and communities. Activities as Regional Organizer include training activists to speak out at permit hearings, writing email blasts for our next free hike, scheduling volunteers, disseminating evidence-based research and education, and much more.
The perfect candidate will recruit, engage, and retain volunteers all with the intent of developing new leaders to advocate for our communities. Travel and the ability to work remotely will be essential.
We're a horizontal, collaborative, and inclusive organization largely powered by willpower and volunteers. Being able to positively engage and motivate a diversity of people is a must!
Knowledge & Skills
We're seeking someone to join our team with experience dealing with advocacy issues at local, regional, and state levels; and a proven commitment to on-the-ground organizing work. This position reports directly to the Executive Director.
Experience working with volunteers and developing strong skills with new leaders
Event planning and execution
Very organized and able to keep a lot of balls in the air
Must have strong track-record of following through on commitments and projects
Great at working in an often fast-paced environment under tight deadlines
Able to meet goals on new and existing projects
Social, high-energy, and fun. Sense of humor is a must.
Committed to getting out in the community, building strategic relationships, and networking
Experience and comfort working with diverse populations in rural, poor, and low-cell-reception areas
Willing to work nights, days, and weekends to ensure the success of a project
A strong applicant is –
Positive! You'll have to weather some tough storms, and when the going gets tough, we'll be counting on our Regional Organizer to motivate volunteers to keep us moving forward.
Dedicated to grassroots change
Nonpartisan and mission driven
Detail-oriented. Familiar with (or eager to learn) AP writing and formatting
Able to make a lot happen with very little (we have tight budgets!)
Able to travel, and work odd hours including nights and weekends
Strong public speaking and communication skills
Willing to commit to Team SWUP for at least 2 years
Able to be both self-directed and a true team player working collaboratively
Tech familiarity with Google Docs, Excel spreadsheets, Twitter, Facebook, etc.
Able to independently report progress and track goals
Bonuses!
Communications experience including press releases, email blasts, and more
Fundraising experience as a tool to engage new activists
Web tech skills, basic HTML, especially WordPress
Database management skills, especially NationBuilder
Photoshop and an eye for design
Track record of winning grants
Familiarity with doorknocking and on-the-ground outreach efforts
This position is project-based demanding an average of 25/hrs/week with the possibility to expand. We will be interviewing and hiring immediately. Compensation depends on experience. This position will remain open until filled.
To Apply
Interested applicants should submit their cover letter, resume, and three references to in the application form below as Google Docs with their privacy settings set to 'anyone with the link." We hope your cover letter will showcase your writing skills while sharing with us how your life experiences have shaped your interest in being Save the Wild U.P.'s Regional Organizer.
Women, people of color, individuals with disabilities and LGBTQ candidates are encouraged to apply. Save the Wild U.P. is proud to be an Equal Opportunity Organization.