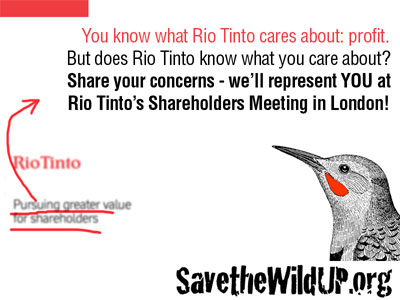 We want to hear from you — What would you say to Rio Tinto shareholders in London? Share your concerns in the "comments" section below and we'll share your thoughts on our website, Facebook, and at shareholders meeting and protests in London.
Save the Wild U.P.'s executive director, Alexandra, will be heading to London to voice community opposition to Eagle Mine at Rio Tinto's annual shareholders meeting. She will be the 10th person from the Upper Peninsula attending this meeting to highlight the hazards and risks of Eagle Mine to our community and show the shareholders that we won't "Keep Calm and Carry On" in the face of sulfide mining.
Alexandra will join activists from around the world, including Colombia, Mongolia, and South Africa, to protest and highlight Rio Tinto's wretched environmental and labor record. You can follow her trip on Twitter @SavetheWildUP, and on Facebook.
This is made possible by a special fund created by activists specifically for this trip and we are grateful for their support.