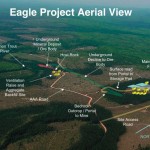 TOUR Kennecott/Rio Tinto's catastrophic Eagle Site – 120 acres of scoured landscape suitable for alien visitors. See Eagle Rock, a significant Native sacred site, now surrounded by a 12′ chain link fence and barbed wire,  heavily secured and inaccessible to anyone seeking worship and prayer. Note the various contractors from Wisconsin and Minnesota, here for the short term gain while living in a motel in Marquette. Ask about the 'high-tech' waste water treatment plant that has never been tested under these local conditions, potentially pumping over 50,000 gallons of waste water back into the high plains hydrocycle – uncharted territory.
While out on the plains, visit the nearby headwaters of the pristine Salmon Trout River, (located directly over the ore body) once a thriving fishery soon to be degraded to an unknown status or lost altogether.
Enjoy the tour!
To sign up for tours you need to call Checker Cab at 226-7772.
Dates and Times:
Friday, August 19th from 3-7
Saturday, August 27th from 9-1
Friday, September 9th from 3-7
Saturday, September 24th from 9-1
You must bring a picture ID and a barf bag.