DETROIT (AP) – With thousands of feral pigs threatening farms and native species, the Michigan Department of Natural Resources and Environment has declared the bristly swine an invasive species and given the Legislature until July 8 to come up with regulations on breeding and confining the tusked animals or ownership of them will be banned.  Mining Journal, Sunday, February 6, 2011 Read More...http://www.miningjournal.net/page/content.detail/id/558515/State-looks-for-feral-pig-solutions.html?nav=5006
Similarly, Kennecott/Rio Tinto:

is from a foreign country
destroy everything in their path
carry and spread disease (toxins, acid mine drainage, social problems)
is an 'invasive species'
a nasty looking animal
Most seriously, Kennecott/Rio Tinto is building a nickel mine in Big Bay, MI without having a sound transportation plan to move their ore. This map is similar to a path  a pig would take, rooting around aimlessly until finding the 'cheapest' and most productive passage.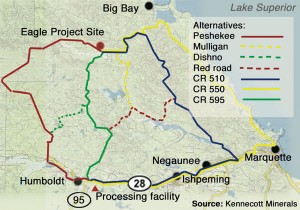 The following article attempts to  'soften  the bristly blow'  from Kennecott's decision to haul though the city of Marquette – thanks John Pepin for writing…Sunday, February 6, 2011
MARQUETTE – Over the past several years, the Kennecott Eagle Minerals Co. considered more than a half dozen transportation routes, including rail options, before settling recently on a trucking route through the city of Marquette.
"We spent a significant amount of time looking at alternatives to meet our business purpose," said Matt Johnson, Kennecott manager of external affairs.
The routes were evaluated using criteria including length, land ownership, environmental features and impacts, community impacts, ability to gain permits, construction costs and project purpose.
Kennecott officials detailed pros and cons for each of the routes considered.
The option Kennecott is now pursuing using Marquette County roads AAA, 510 and 550 through Marquette is cost-effective, was a route stipulated by the company in 2006 and uses existing public roads currently used by industrial traffic, with Kennecott willing to make major structural, environmental and safety improvements. The wetlands impact of this route would be 1 acre.
But the city of Marquette objects to hauling through the city and there is a petition with 900 signatures from the community asking Kennecott to develop an alternate route. The trip length is 66 miles one way.
The 22-mile Woodland Road, which was supported by local units of government and the county road commission, would improve transportation corridors in Marquette County and remove industrial traffic from County Road 550 and the city of Marquette, Kennecott officials have said.
But federal regulatory and mine opponent objections remain. The wetlands impact was 27 acres.
County Road 595 was proposed in the same corridor as the Woodland Road and had many of the same benefits in addition to being more cost-effective than many of the alternatives. Five to eight miles would need to be built, the rest improved. The wetlands impact was 22 acres.
Federal permitting timelines for County Road 595 were deemed unlikely to meet the projected start of mine production in late 2013.
An option upgrading the Peshekee Grade was determined to be "not prudent due to the length and dramatic private property, wetland and stream impact."
A County Road 510 to Red Road alternative had reduced wetland impacts compared to the Woodland Road, but was determined to be not prudent or feasible because of a significant number of miles needing reconstruction to Class A standard and not being cost-effective compared to the Woodland Road. Detailed engineering of this alternative was conducted last summer. The wetlands impact was 13 acres.
Using County Road 510 would remove industrial traffic from County Road 550 and the city of Marquette, but did not meet the project purpose due to length, cost, required wetland improvements and geographic location adjacent to another paved industrial route (County Road 550). This option was more costly than County Road 595 or the Woodland Road and there would be residential impact on the southern end of the route.
"The entire road would need to be reconstructed, moved in some places," Johnson said.
Another route was considered along the Mulligan Plains Truck Trail as a limited location for a railroad to traverse grade changes between the mine and U.S. 41. Johnson said industry standard for railroad grades is no more than 2 percent. Kennecott officials said this would rule out a direct north-south rail route from the mine to the mill. Any rail route was deemed cost prohibitive, largely because of length and associated environmental improvements, which would be needed. The wetlands impact of the Mulligan route was 15 acres.
The Mulligan Plains route has a conservation easement on the north end at the Yellow Dog River. To avoid the easement, a gorge poses a significant obstacle. A road would still be needed to access the mine for employees, deliveries and other uses.
A Dishno Road alternative would provide better access for timber, mining and aggregate haulers than county roads 550 and 510; but there are a significant number of private land owners, requires rebuilding the entire route and would present a lengthy trip cycle for haulers.
John Pepin can be reached at 906-228-2500, ext. 206. His e-mail address is jpepin@miningjournal.net.